I don't know if any of you go through the same thought process as me when it's cold outside, but I often mind myself putting so many layers on i'm practically unrecognisable as myself by the time we set off for a dog walk. Between all the layers, the occasional thermal, a huge cosy jacket and then all the accessories needed too, it could be anyoneunder there!
So how are you meant to still look stylish when it's snowing rainning, muddy or all of the above outside during one single outing?
It all comes down to the age old balance of both practicality and personal style in one single look. How can you ensure that you don't lose the part of your style that make you feel great and that express who you are but also ensure you don't lose a pinky finger to the extreme cold.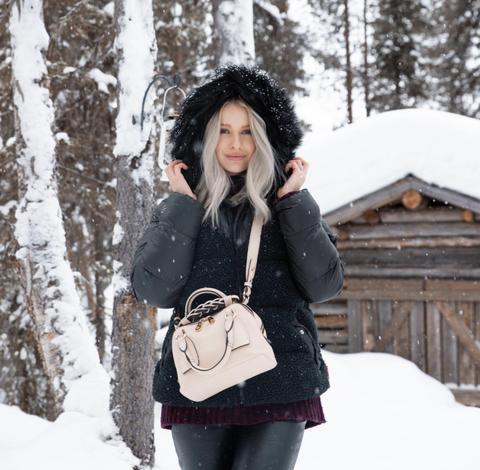 Here's how I try to stay looking stylish when it's cold outside, whether that's on our daily dog walks, a vacation I know we're all dreaming of right now or in 'normal' life when you simply need to commute during the winter months.
Embrace Statement Accessories
Padlock Baker Boy Hat 
 Now I know not everyone will be considering what accessories the're wearing if it's snowing outside but I've found lately that if I don't pick out some accessories that I love and wear them for a dog walk, use them for grocery trip or style them for a drive to simply anywhere, then they're never going to see the light of the day. Just because the errand might be boring or the dog walk might be the same route as the other 6 I've taken this week, it doesn't mean I can't add some sunshine into my look via some of my much loved accessories and love the things you own even for the most mundane of accasions. I've actually found it such a great way of having some fun with my looks and it even encouraged me to share more looks over my Instagram. Inspiration can be found anywhere!
Think About Your Silhouette
Only happy when it rains | raincoat
 It's so easy to dress for colder weather and then realise that not only does your top half not match your bottom half but in-fact the silhouette you're wearing doesn't tie in with any other look you've chosen before, or any other look that makes you feel your best. Now this might seem superficial bur we all know how great fashion can make us feel if we have passion for it. I've spoken before about embracing whatever parts of fashion and style you love, even if those parts aren't necessarily 'on trend' because fashion and style are whatever you want to make it. There are no rights and no wrongs! We can use it to make ourselves feel freat, we can use it to make statement and we can use it add some fun into our day, even if the foundation of our look is practical. So take a second and think about the silhouette you're wearing and if it brings you that confidence you desire in your usual personal style of if it makes you feel unnecessarily blah for want of a better descriptor haha
Don't Lose Your Personal Style
Celeste Tank Top + Long Pant Set 

 I think this is my most used tip for any of my style posts here on the blog when it comes to dressing for ant occasion but especially those occasions that are out of the normal realm of everyday style. Either due to the occasion itself or simply the weather. You know yourself well or are beggining to know your style well as your age, so the last thing you want to do if you're discovering who you are and enjoying embracing how to express yourself with fashion, is to settle for a piece just because it meets your needs in that moment. If you adore colour don't simply by a black raincoat because it's the first waterproof style you find, if in-fact you know a pair of chic suede gloves would be versatile in the long term don't settle for snow boots that you hate to reach foe when it snows as opposed to a style that's both fashionable and insulated. Even with cold weather fashion, you still have a choice to express yourself!
Invest in Quality Pieces
All about May sweater 
 Practical pieces don't have to be completely without style and more and more we see great brands using wonderful materials and brilliant fits, to ensure their pieces don't just look good but they wear well too. Luckily for those of us who follows trends closely or like to invest in a few pieces every season, the puffer jacket is the 'it' coat trend for 2021, or even if you're eyeing up a high street alternative, the style lends itself to a naturally being as warm as you are trend. Or if you love classic pieces then perhaps invest in a beautifully fitted trench coat that transcends seasons and occasions, but also works perfectly with some thermals layers underneath to combat the cold weather. There's always a way to wear pieces that tick all boxes!